100% Online Experience
Shop
Morrie's Expressway
Instant Pricing - No Hassle - Build Your Deal Online
Take Advantage of This Month's Current Offers

Ford Blue Advantage: Confidence at Every Turn
Experience the benefits of Ford Blue Advantage! Each Ford Blue Advantage vehicle features a limited warranty, multi-point inspection, 24/7 roadside assistance, and FordPass™ Rewards Points.
We're Here For You
Morrie's Tomah Ford always puts customers first!
Don't take our word for it: Read our reviews and see what everyone is saying.
Very friendly staff and quickly got my jeep back after an engine repair.
Danny was a GREAT salesman to work with (he was also nice to look at.) He really went out of his way to find a vehicle like the one I originally was looking at, but BETTER (miles, price, location.) I was shown how to use all the cool features AND he even transferred over my car seat for me! I highly recommend this place.
Great service and very helpful.
We were looking for a truck that fit both our hauling needs and budget. After a search online we came across a nice one at Morrie's. We sent an email about it and began working with Danny Calkins. Yesterday evening we met with him and took the truck for a test drive. Danny rode along and told us about all the great features as he navigated us through Tomah. We were able to make a great deal and drove home with a nice Ram truck. We're going to love it! Thank you, Danny and the rest of the Morrie's crew!
Was very nice dealing with the people at Morris's in tomha thank you again.
There was a recall to ✔️ fuel injector and they checked my fog lights.
Dan Rudolph was very helpful and guided us to the right vehicle. He was very knowledgeable. This was our second vehicle we bought from him! Highly would recommend Morrie's Ford in Tomah and Dan! Best prices, good vehicles and nice people!
Took vehicle in for safety recall. Car completed in short time. Confident work completed properly.
Required service for a tire repair and an oil change. Wonderful experience. Customer service was excellent. Everything was explained thoroughly. Couldn't ask for any better customer service!
Everyone was super kind, helpful and honest. I felt like I was talking to family and confident in my purchase knowing they were going to stand behind their product.
Great experience purchasing my vehicle. Marabeth was helpful as always!
Fixed pin on caliper that was causing the squel. My wait time was less than 1 hr and had several interesting dialogs with a couple of sales associates. My warranty covered the expense accrued and the situation is all well. Thank You,Brenengan,Tomah. Will purchase new vehicle when feasible. Gary Z.
I bought a truck a week ago. When driving at night, I could tell one of the headlights wasn't adjusted right. I asked if they could adjust them, and they said bring it in, you won't need an appointment for that. So I bought it in, and they adjusted the headlights right away. Thanks Morries!!
Very helpful and friendly staff. People knew what they were talking about or found someone who did quickly.
Julie R. was great!! Very accommodating and professional.
I started taking my truck here after not having a good experience in another town. This place helps you fast, doesn't have people standing around that don't pay attention to people that walk in the door like others I've been to. Wait time for oil and tires is better than average. Friendly and positive staff on hand.
Danny was great! We did a trade in on our car and he found us a perfect SUV for our family. He listen to what we had to say and overall had a great conversation. Highly recommend! Thanks again!
I want to recognize Sarah, the service writer at Morrie's Tomah Ford for her outstanding professionalism. Tomah Ford completed repairs on my daughter's Ford Taurus. Sarah kept us informed during the process, she completely and thoroughly answered all of our questions and after the repairs were completed, she reviewed all the repairs with us in detail, all with a courteous, friendly and professional demeanor. Thank you, Sarah.
Super easy transaction! Julie Rush was awesome to work with and helped making this a quick and easy transaction. The GM was fair with my trade and the finance department was also quick and easy. Cheryl was great and explained everything very well. Highly recommended.
Needed new tire put on. Only place in town that could help get it mounted without having to wait a week. Great service!
Service Advisors (Ashley and Sara) were exceptionally customer service oriented and cordial.
Being new to the area I was a little nervous about starting with a new dealer. From the moment I walked in and meet Ashley, my fears were gone. Can't say enough about the top notch customer service from this business.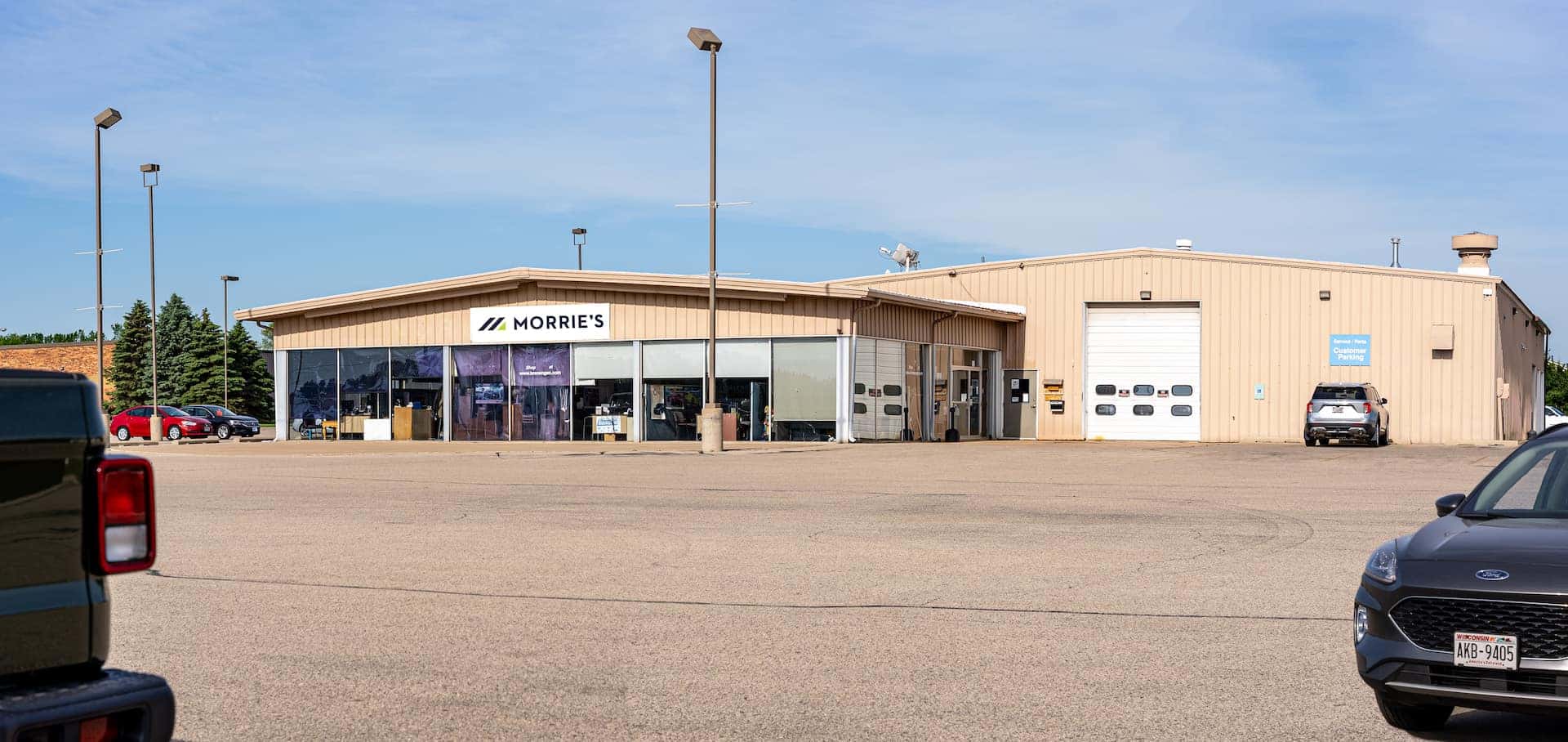 Welcome to Morrie's Tomah Ford
Morrie's Tomah Ford: Premier Among Car Dealerships
New Vehicles for Sale at Our Ford Dealer in WI
Finance with Morrie's Tomah Ford
Service Your Ford With Us
Contact or Visit Us Today!
Contact Us
Get Directions
1200 North Superior Avenue
Tomah, WI 54660
608-360-9520
Directions

Welcome to Morrie's Tomah Ford
Morrie's Tomah Ford: Premier Among Car Dealerships
New Vehicles for Sale at Our Ford Dealer in WI
Finance with Morrie's Tomah Ford
Service Your Ford With Us
Contact or Visit Us Today!
Contact Us